Bernhard Willem Holtrop was born in the Netherlands in 1941.
He went to Art School from 1962 to 1967, took part of the 'Provo' movement, the Dutch equivalent to the Beatniks and, in 1966, created a political cartoon newspaper "God, Nederland & Oranje"
where Picha and Roland Topor were published. The newspaper was censured (this is quite usual with Willem's work).
Soon after he arrived in Paris, he worked for the early issues of "l'Enrage"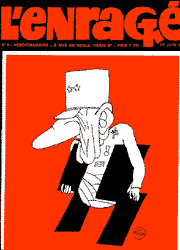 , "L'Hebdo Hara-Kiri", and then for "Charlie-Hebdo".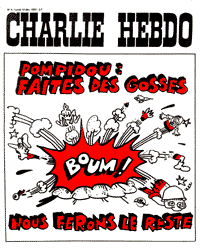 His cartoons, strips and comics are directly inspired by the world news of the time and his chronicles depicts the current cultural life (both pretty much emphasizing graphic expression): "Revue de Presse" and "Chez les Esthètes" for "l'Hebdo Hara-Kiri" then "Charlie-Hebdo", "Chez les Esthètes" for "Charlie Mensuel" and "Images" in
since 1981.
His strips and drawings for the press were published – among others – in Phosphore, Bijster
, Hitweek, Model-Peltex, Carton, IX(1969)
, Cocktail Comix, Provo
, Métal Hurlant, Bilan Provisoire, (A Suivre), Je Bouquine, Rock Hardi, Fluide Glacial
, Bizarre Sex(Kitchen Sink 1972), Action (1968-69), J'accuse
, La Grosse Bertha
, 50 millions de consommateurs, Zéro, La Veuve Joyeuse, Gertrude, Drunk, Anathème, Au Sec !, PLGPPUR, Zoo, Viper, Stripburger, Vrij Nederland, Opus International, Toi et moi pour toujours, Loesh, l'Echo des Savanes (1980's), Hara-Kiri
, Lard-Frit
, Rouge, Bulles Dingues, Les Inrockuptibles, Une minute de Silence ("Journal muet international"), Aloha
, l'Horreur est Humaine, Zoulou, Placid et Muzo, Rigolo (Playing cards game), Réciproquement, Tante Leny Presenteert!, BD-l'Hebdo de la BD
, Passages
, Le Citron Hallucinogène, Flag, Stomack, Politis, HP/De Tijd
, Le Fou Parle, Strips (1996), Zéro Plus Zéro Egale La Tête A Toto, Makoki, Mono Grafico, Siné Massacre, Les Cahiers du Cinéma
, Télérama, Mords-y-l'oeil
, Lui, Strapazin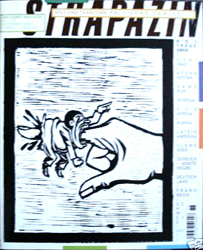 , Stripschrift, (Le Petit) Psykopat (Illustré)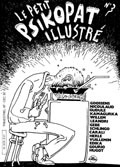 ,..... then gathered in albums.
The pages published in the '70s in Hara-Kiri/Charlie Hebdo were published much extensively by the Editions du Square, with one book at least each year.
His position in the monthly "Charlie Mensuel" went from 'spy' to chief publisher (for the last issues). Under his clout, this monthly magazine switched from a virtually all American and English classic comic strips publication to a display of the most imaginative surging talents (Alex Barbier, The Varenne Brothers, Cathy Millet,…).
Apart from a massive production as a cartoonist for the press, he worked on posters, book's illustrations, flyers, Ex Libris, CD booklets and sleeves, inked photography, alphabets and wrote the text of a children's book illustrated by Joost Swarte.
Over the years, he has been a herald for underground comix, Dutch comics of the '70s (Tante Leny presenteert), spanish comics (El Vibora),.... Event have gone his way as his work have been also published in these countries.
It was a unique experience when in 1976 Professeur Choron released a little quarterly then bimonthly comic book "SURPRISE", whom Willem was the chief publisher. Fell by Michel Poniatowsky's censorship (then House Secretary), this magazine only had five issues but the art published is still striking for its originality and narrative power.
Internet Site about Professeur Choron



Currently (even if his images are still depicting raw violence and sex), his drawings are sold by Drouot's auction house and take place in many "official" exhibitions.